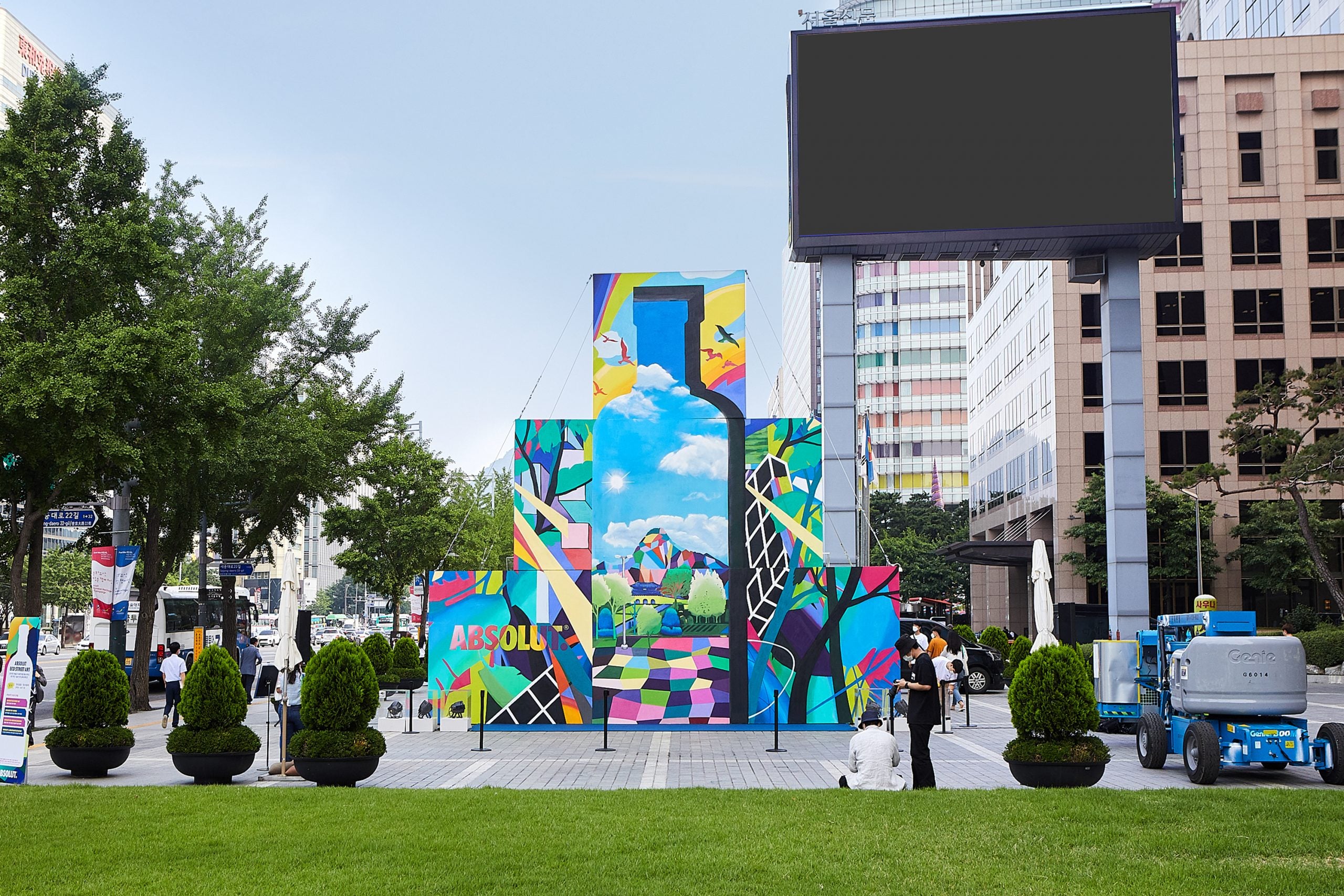 Art that makes a difference
Air pollution and fine dust is a real problem in South Korea. Through an expressive art collaboration, Absolut wanted to raise awareness and address this issue in an expressive way. And by using a special, pollution absorbing paint, the artwork did a lot of good in itself. We had a chat with Misung Park, Brand Marketing Manager at Absolut, about the project.
What is Absolut Eco Street Art about?
Absolut Eco Street Art was a campaign that we did here in Seoul last summer. The whole idea was to use art in as a way of creating a better future. So, we asked a local graffiti artist called Xeva to paint a piece on three containers on the theme of what an ideal, pollution free Seoul would look like. But the artwork wasn't just graphic, it was also functional. So, it had a dual purpose. The paint used is called Airlite and it's a kind of organic paint that actually absorbs pollution, thus having a positive effect on the air. We also created an inside space on the ground level of the installation for consumers to visit and experience the whole idea of our campaign. They could for instance paint their own Airlite x Absolut bottle and express their creativity.
How did you come up with the campaign?
It's part of a global brand campaign where the aim is to use creative collaborations to help build a more positive society. This was our way of leveraging the global campaign on local level. One of the biggest environmental problems we have in South Korea is air pollution and fine dust. This is a problem that transcends generations and is a concern for everyone. The air quality in Seoul has been declining the last few years, so this is a problem that touches everyone. We wanted to address this in a symbolic, yet concrete, way through an impactful artistic collaboration.
What was your role in the campaign?
I came up with the idea and then I was involved in the planning and execution of the campaign, together with our local agency and the artist. It took some six months to do and we originally wanted to go live in March – when the air pollution peaks – but due to covid, we had to postpone the launch 'til July instead. The pandemic impacted our timings and we had to redo some elements of the campaign due to visitor restrictions at the event space. That meant we had to adapt the campaign slightly, as we had to be really cautious and safety minded, but in the end it was a success.
Why did you choose to work with Xeva?
He's a very famous, first generation graffiti artist here in South Korea. Graffiti is an art form that's relatively new here and, perhaps, not fully recognized as art yet. We saw his portfolio – he likes to work with very vivid and bright colors – and we thought his expression was very relevant and close to our own at Absolut. So, it was a good match. And already from the start, he was very interested to participate and saw this as a meaningful artistic project. And he was free to express himself in any way he wanted, but we did ask him to include the Absolut bottle silhouette in some way. It's such an iconic shape that it just had to be there and I think he used it very well. Otherwise there was no restrictions on our side.
What did the people of Seoul think about the campaign?
Reactions were overwhelmingly positive. Firstly, the artwork in itself was very beautiful. With all the popping colors, it became a vibrant installation you could see from a far. People were curious to come closer and see what it was all about. And when they learned that it was also actually linked to a meaningful issue, they reacted even more positively. This isn't just green washing, this is taking a stand in an important issue. Esthetically it was a success, but the meaning touched everyone's heart and that's exactly what we wanted.