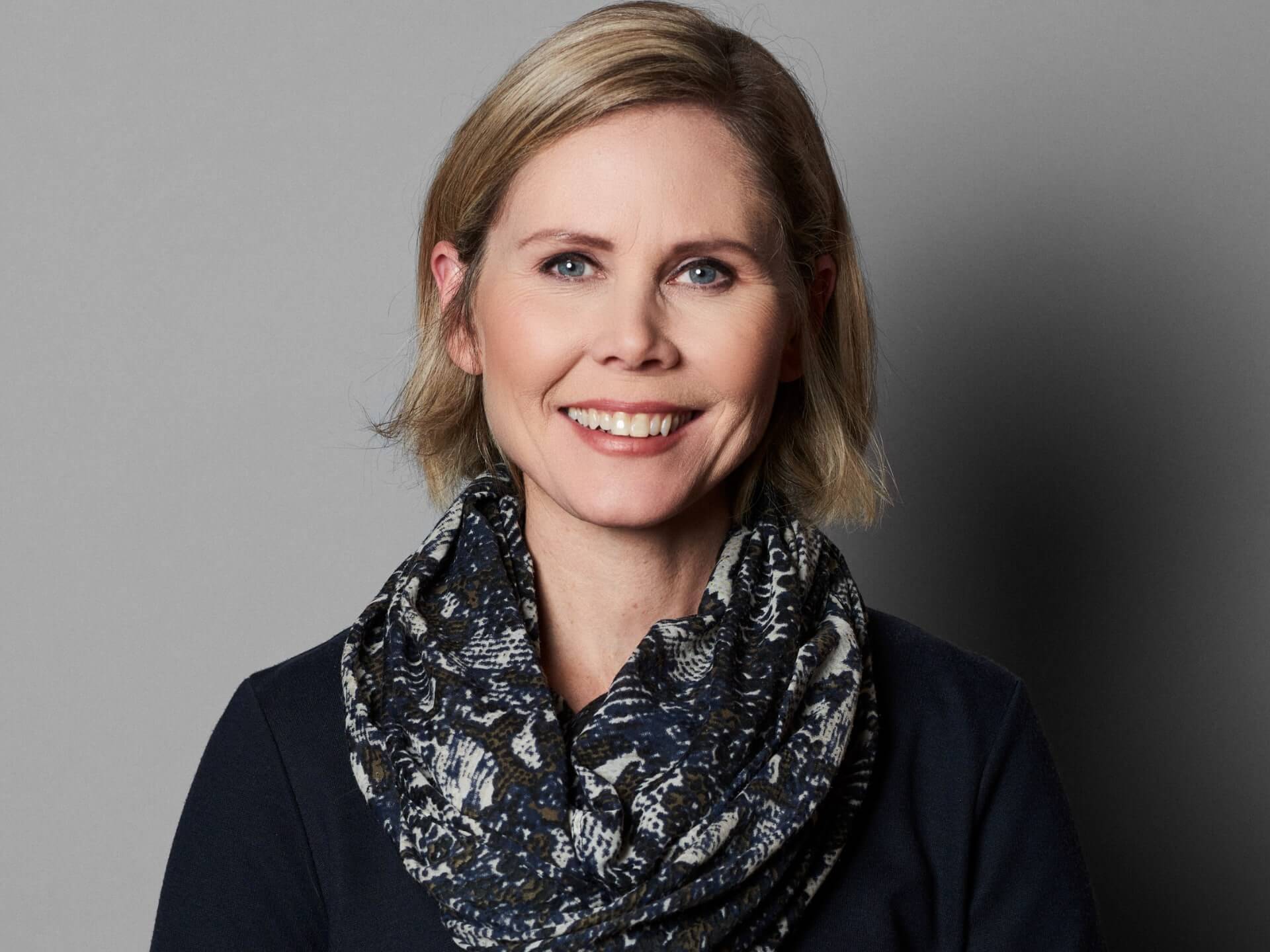 Carbon roadmap: Navigating a bump in the road
A fundamental part of our sustainability strategy is a commitment to make Absolut Vodka a carbon-neutral product by 2030 and we remain on track despite a challenging year.
Since 2004, we have reduced carbon emissions per litre by 80 per cent at our bottling sites and distillery thanks to industry-leading energy innovations. We have extended our climate-smart actions into our wheat and glass supply chains, whilst driving down transport emissions.
Distillery efficiency
In FY22, we experienced an unprecedented level of demand for vodka as the world got back to life post- pandemic. Bars and restaurants became a hive of activity again, while duty-free outlets opened their doors as cruise ships took to the seas and planes to the sky. Yet, while demand soared, supply chains remained fractured and delivery lead times increased dramatically.
Relationships have been proven to be invaluable. It is thanks to our long-term partnerships that our carbon-neutral roadmap remains on track.
The forecast had been to produce 10.5 million cases in FY22 but in reality, production numbers rose by 30 per cent to 13.6 million cases. To be able to meet this unforeseen surge in demand, we reopened our backup facility, which, given its age, is not as carbon efficient as our main distillery. This caused our Scope 1 and 2 emissions – which we offset to 100 per cent – to rise to 4,804 tonnes in total – four times as much as FY21. The resulting carbon efficiency of our distillery and bottling was 39g CO2/l vodka compared to the previous year's 12g CO2/l vodka.
Our increase in emissions was as much about pigs as it was vodka. We sell our main by-product of the distillation process, wet stillage, as feed to local pigs and cows and transport it sustainably. However, the unexpected increase in demand for vodka gave rise to excess stillage as we had more stillage than the farmers had planned for. Subsequently, this harmed our overall emissions score, as we dried excess stillage (losing 90 per cent of the wet stillage which is water) at our emergency drying plant facility using fossil fuels.
When lead times are increasing, people psychologically tend to order more, just in case the next delivery doesn't arrive on time.
Contingency plans have been made to bring our emissions level down again. Capacity, stability and agility are key. We are reviewing our operations so we can manage such fluctuations in demand more effectively.
We remain one of the most energy- efficient distilleries in the world. Even this year our distillery in Nöbbelöv, close to Åhus, is 89 per cent more carbon efficient and emits nine times less per litre alcohol than the average distillery.
We are also working more closely with markets to ensure forecasts are vetted from many perspectives and we are looking to work more closely with pig farmers, with contracting more of an option. And as part of a previous commitment for our facilities to be fossil free by 2025, we continue to phase in renewable fuels, one of them being our waste spirits, to replace the remaining fossil fuels at the facilities.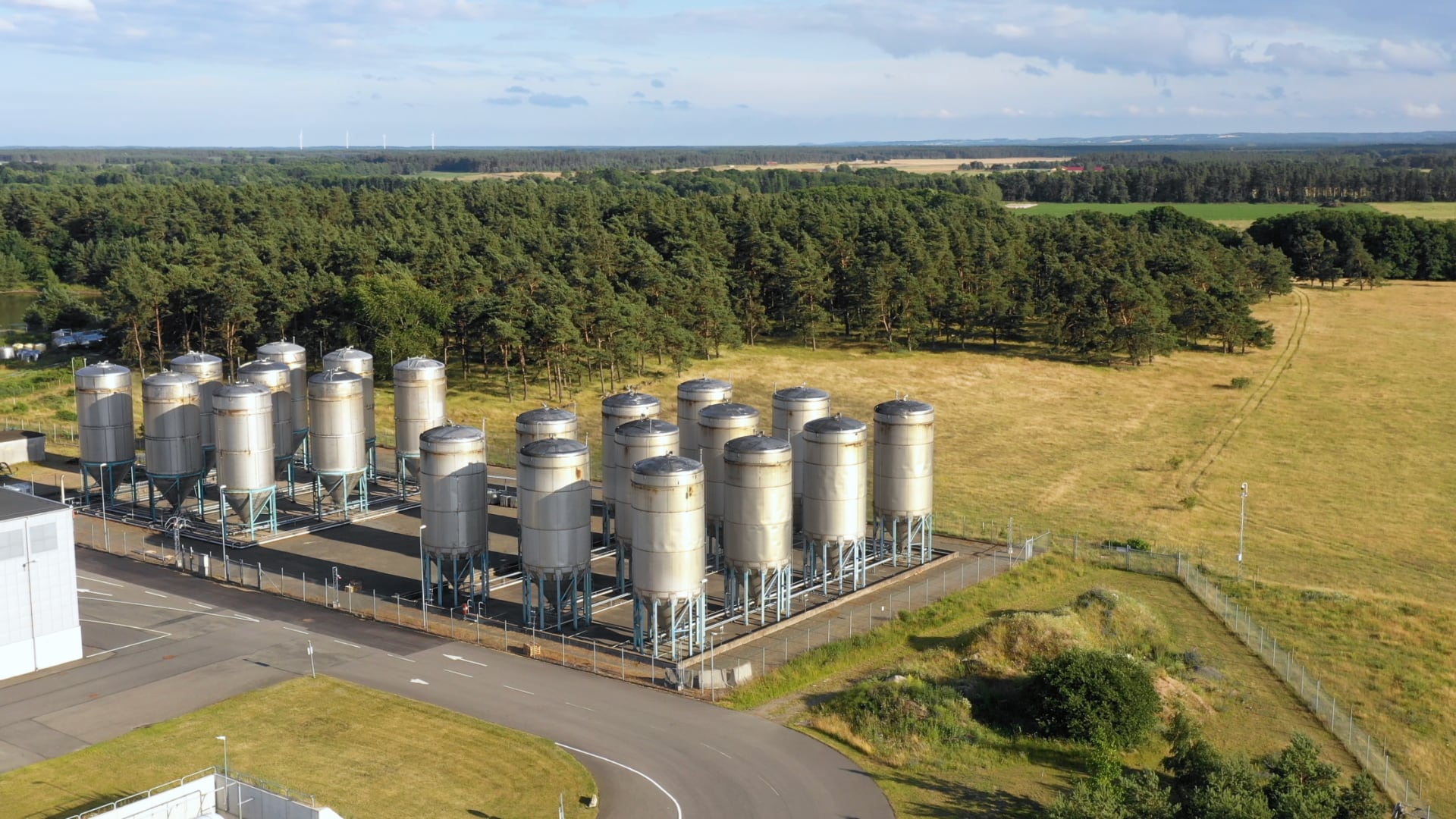 Bottles and other packaging
Since our distillery is so carbon efficient, around half of the carbon footprint of Absolut Vodka when it sits on the shelf comes from the natural gas used in the production of the bottle. Our glass supplier is today working very actively, with our support, to reduce energy consumption and start introducing alternative energy sources for production. We can see in the figures that the work pays off.
Recycling is a major part of our philosophy of being circular and we now use 53 per cent recycled glass, known as cullet (recycled glass) in our Absolut Vodka bottles. We are aiming to have 60 per cent recycled glass in Absolut Vodka bottles by 2025. By increasing recycled content, we not only support a sustainable circular economy in Sweden, but we also reduce carbon emissions, mainly because less energy is needed to melt the raw material.
It's not just with our bottles that we can be more sustainable. We can make difference in the way we pack them for distribution. Last year we decided to remove all cardboard dividers in boxes for all Absolut Vodka Original in 700ml and 1000ml bottles going to Europe. This has led to lower costs, better efficiency in bottling lines and reduced needs for material (no dividers plus slightly smaller boxes).
We love to think that nothing is impossible. The idea to remove dividers in our boxes was met with some concern that bottles would be damaged. But they don't and feedback suggests the change has gone very smoothly.
Smarter distribution
We don't want to ship air; we want to ship goods. Over the past few years, our warehouse team have been working studiously to optimise how we load our containers. For example, we no longer use wooden pallets in the containers, using slip sheets instead, which are made from layers of paper are much thinner and lighter than wooden pallets (see page 43 for more detail on optimising our distribution capabilities).
Reducing wheat's footprint
Wheat is also a large part of our footprint and over the past year, we have increased our focus on efforts for biodiversity, climate (CO2 emissions) and soil health with our updated Absolut Sustainable Wheat programme. This second stage of our initiative rewards farmers with credit for taking climate action, and you can read more on this on pages 13–15.
While working on emission reductions we are also looking at solutions for actually removing CO2 from the air, both at the distillery and in the cultivation of wheat. At the distillery biogenic CO2 (captured from the air by the growing wheat) is released as part of the wheat fermenting process. Some of it is collected, liquefied and sold to other industries. But we see the potential of collecting more and also joining the current drive to safely stow away the CO2 in long-term storage using Bio-Energy Carbon Capture and Storage (BECCS). A lot of research is also being done into how we can capture CO2 in the soils where our wheat grows, and we follow this with great interest.
We have saved thousands of containers from being needlessly transported simply because our warehouse team figured out smart ways to optimise load and space.
We can now measure what farmers are doing and calculate our own emission factor for wheat more precisely.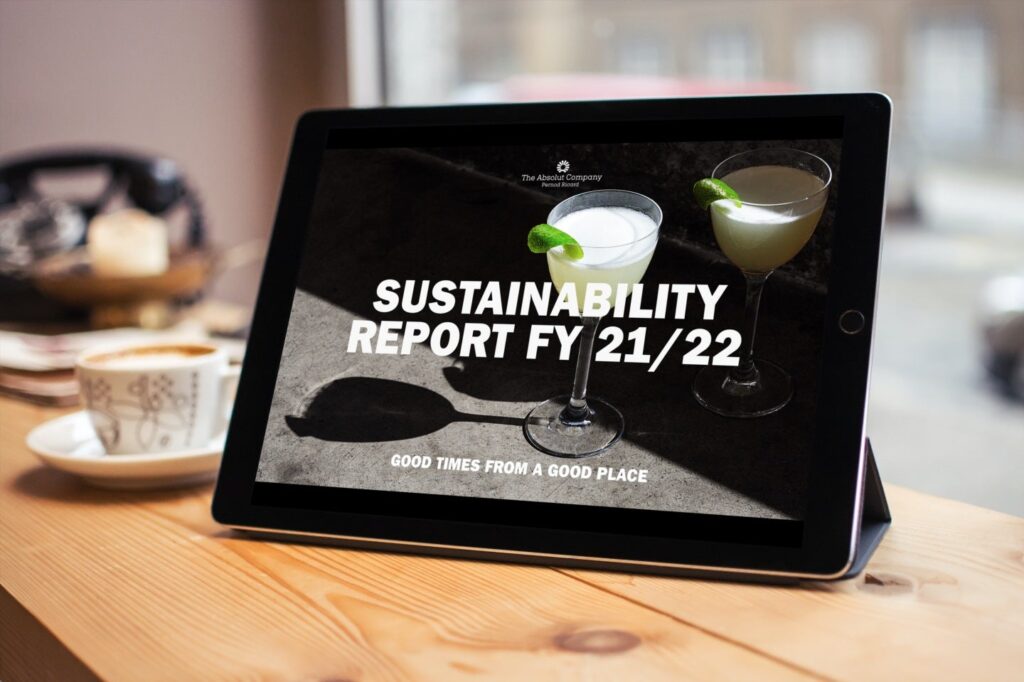 Download the report
This, and more, is from the Sustainability Report for fiscal year 21/22. It's available on this site, as well as in PDF form if you prefer (27 MB).