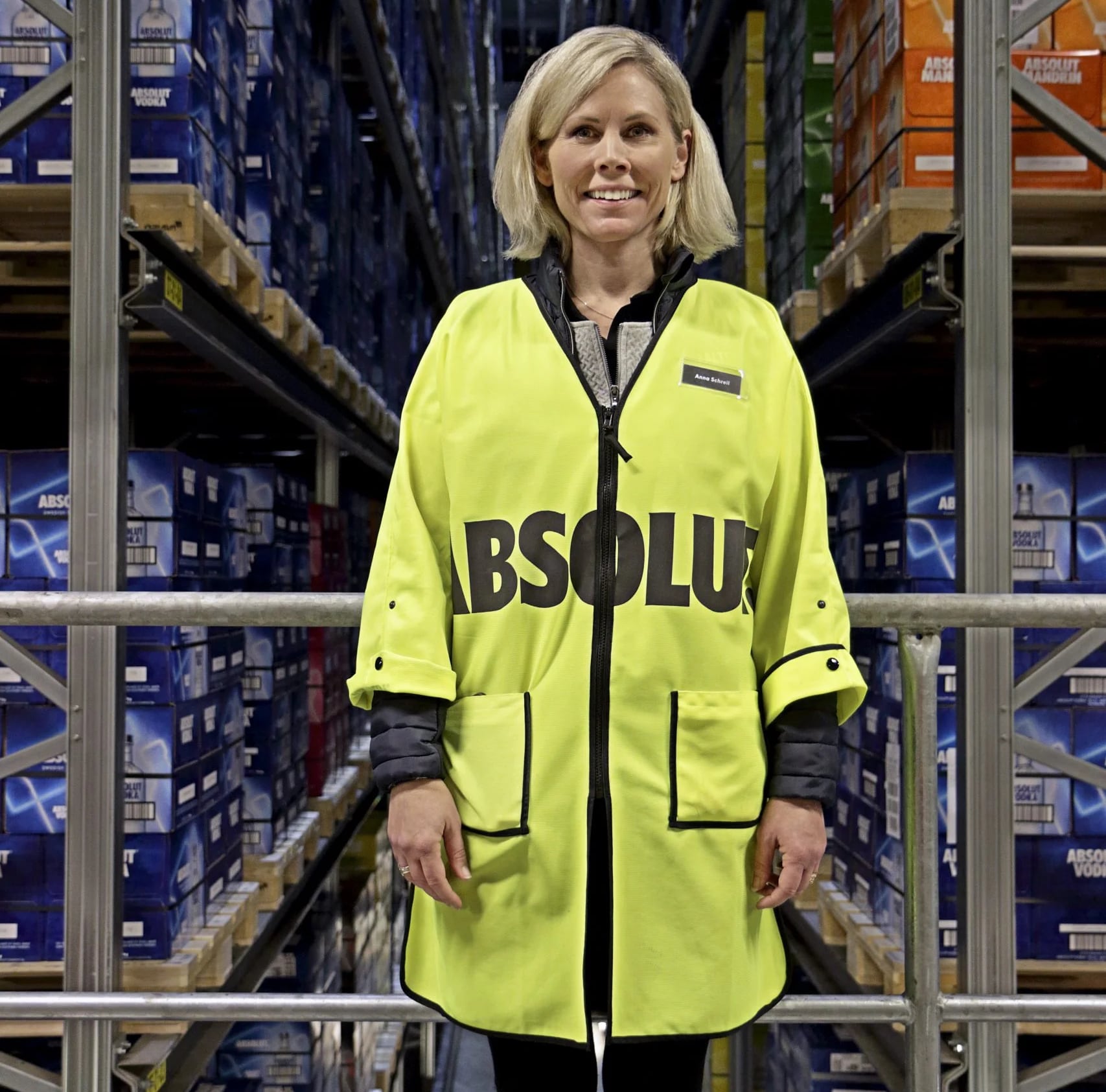 Producing for the future
As a big player in a small town, it's important to always be aware of your responsibilities. For Anna Schreil, VP Operations at The Absolut Company, this is old news. Over the years, she has consistently introduced and implemented a number of innovative improvements at the factory in Åhus. But cobots, fully automated high-bay warehouses and industry 4.0 practices aside – the production of Absolut Vodka requires more than the push of a button. It's a complex chain where every link – from locally grown grains to global sustainability claims – must be seamlessly integrated. Every day.
Absolut exports 99 percent of everything that is produced in Åhus. In other words, what's essentially local is also global. How is this paradox matched with the company's sustainable ambitions?
"Our production philosophy is called One source / One community, where the first part references our origin and our way of making Absolut Vodka – with sustainability and quality in focus. The second part highlights the community that makes all this possible. One source means that our product has one origin. The wheat, the water, the manufacturing and production processes are all tied to Åhus and the surrounding area. This gives us a unique opportunity to control the production chain and tailor it to suit our vision of being fully circular while maintaining a high-quality product."
"We also have the human aspect of the production – our community. Vodka is not made at the push of a button. It's a craft that requires an incredible amount of knowledge and cooperation. You have to know the process inside-out to achieve a high-quality product and you need reliable, long-time partners that share your vision."
What steps are Absolut Vodka taking to become fully circular?
"Sustainability has always been important to us and we must act on the basis that we're a big player in a rather small town. We have a responsibility towards the local community and don't want to be associated with any sort of pollution, not even smells or sounds. That respect is crucial."
"The same applies to all the employees within the company. If we look at pure environmental aspects, my engineering background has given me the resolve to have one of the world's most energy-efficient distilleries. We must be state-of-the-art and that means that we can't let resources go to waste. We take care of our products and our by-products, nurture our raw material resources and always try to have an understanding of our place in the value chain."
Can you give an example?
"Let's take the story of how we shifted our production to produce pure alcohol for hand sanitizers during the first months of the covid-19 outbreak. In that specific case, we realized early on that we could provide something that was in short supply at the time. We realized that it would involve a very complex production chain to achieve our goal, which we managed to do."
"Being circular means looking at the whole system and understand what happens from one end to the other in the production chain. That includes looking inwards, at our own circular processes, and try to come up with new ways of how we can improve and increase our sustainability work. For example, we purify the spirits from fusel oils, which contain hydrocarbons and thus could be considered an energy source. So, we have realized that we can reuse the oils as fuel in our production. We have invested in such a facility and it's already in use."
What is the secret behind Absolut maintaining the balance between tradition and innovation?
"I think it's interesting to imagine how our founder L.O. Smith would have thought if he was alive today. I'm absolutely certain that he would have tried to improve his own methods and that he would agree with our approach of exploring all the opportunities that new technology can bring. I think he would've placed great emphasis on being curious and seek new ways to ensure and maintain consistent quality."
"Value generation is dynamic, and it is not possible to lean on what was decades ago. As an engineer, the fact that consumers approve the products we develop and produce, and are willing to pay a premium for the values ​​we've generated – such as environmental – is value generation in itself."
"At the same time, we always have to maintain the core values ​​we stand for – a super-premium vodka with passion and love – while making sure that changes we make actually generate value for our consumers."
What's your biggest challenge from a sustainability perspective?
"The fact that we're part of a bigger system is both an enormous opportunity to influence, but also challenge in the sense that we're not in control of the whole process. Let's take the wheat we use for production as an example. Our challenge is that our sustainability requirements also come with a higher price tag for the farmers. The question is who's supposed to cover that cost? We? Them? Government subsidies? The EU?"
"At the same time, we're one of the biggest purchasers of wheat in southern Sweden. So by collaborating with all the links in the chain, we can establish a more circular model even faster."
What values ​​are Absolut creating?
"Locally we create immense value for our employees. We offer interesting job opportunities, combined with a nice community where we try to make everyone develop and thrive. We also generate value for the area. We are the biggest employer in Åhus and that means many local companies, such as shops, contractors, haulers and machine suppliers are dependent on us to some extent. But, as I said earlier, our partnerships are based on high standards and a high level of trust, which helps our constant progression. We're also running our visitor's center Absolut Home, which adds to the local pride and helps attract tourists to Åhus."
And on a global level?
"From a larger perspective, our innovations give our consumers new values or experiences. Both Absolut Unique or Absolut Comeback are good examples of ways for us to talk about innovation and sustainability through our products. The bottle is our main messenger through which we can manifest what we stand for. Hopefully, it can inspire others to do good as well."
I recently read that you are implementing a process called Industry 4.0. What does it mean?
"In short, industry 4.0 is about generating value ​​by adopting new technology. That alone is nothing new – we do it every day for consumers, customers and stakeholders – but it can have value in itself to find ways to be more efficient. And by efficient I'm not only talking about cost savings. There are lots of other opportunities emerging from digital developments. Take automation, which is close to my area of ​​responsibility. Today, we have a high-tech high-bay warehouse that is fully automated. We also have ongoing trials with cobots – collaborative robots that work close to humans – which play a very important role in keeping us healthy and can free up time for us to analyze data. Industry 4.0 is, a bit simplistic put, all about finding ways and new places to implement digital analysis to improve processes, control and forecasting."
Is there any part of the production that's impossible to digitalize?
"Yes, of course. You can never teach a machine to think about all the possible situations that could occur. Machine intelligence will never be better than a programmer, you will never get around the limitations of the learning that's been built into the algorithm. In a way, it's philosophical; intelligent machines can be excellent as a compliment, doing time-consuming tasks as collecting, structuring and analyzing data takes. But you need people to interpret and analyze, which is even more evident when we're talking about the experience of taste, smell and texture. You can measure lots of things objectively, but the sensory abilities that humans have are almost impossible to replicate in a machine."
You have worked for a relatively long time at TAC. How do you think the view of your production and your products has changed during these years?
"The biggest change I've noticed is that consumer's interest in what and how we produce has increased. Today it's not just about taste, smell and appearance. You want to know more about the origin, the company, culture and sustainability. Especially the environmental and sustainability issues are so much more important today. Everything local has the potential to reach a global audience and I think that we've managed to build and maintain a strong position through our smart use of tech and innovation in a great way. And it's easy for us to talk about our origin because we live and work in the middle of it."
What areas do you identify as most important to continue to develop within TAC?
"Our focus on our consumers. We can digitalize and streamline as much as we want, but we can't lose sight of all those who love our products. Although we're talking about things like Industry 4.0, we must be careful to always include a consumer's perspective."
What is your sustainability vision for production in Åhus?
"There's a roadmap for what we call 'Ambition 2030' – a set of certain goals that must be achieved within the next 10 years. For example, we want a completely climate-neutral product and we want a resource-neutral product where everything can be recycled, both in the products and in the production. Simply put, we won't allow any waste."
When googling your name, the hits are dominated by three major media stories; one global, one national and one local. The autumn wheat shortage in Skåne 2019, Absolut's nude commercial filmed in Åhus 2018 and the birds that built nests in the distillery in 2017. Which of these issues engaged you the most?
"The wheat shortage. It was so much bigger than just the fact we couldn't get enough available to cover our needs. All of a sudden, we were faced with a real risk of no longer having access to all we needed to manufacture our product. 2019 was the worst drought in 50 years in Skåne. We saw the farmers' crisis and we saw how the whole system of which we are a part of shaken to its core. Animals had to be slaughtered due to the lack of available food, and we had to take serious precautions and save all the water we could, down to the last drop. It was like an unpleasant glimpse of what a system collapse might look like. For me, it was both scary and outrageous at the same time."
And what about the so-called nude shock, or 'The naked truth', as it's called. What went through your mind when accepting to participate in a commercial where several of the production staff – including yourself – posed naked?
"When I first heard about the idea behind it – a new way to manifest everything we stand for, the vodka with nothing to hide – I remember thinking "who would ever want to be part of this?". At the same time, I thought it was a great concept and that it would be fun if it actually featured us who work here. We are so proud of what we produce and we have absolutely nothing to hide. Everything was done voluntarily and I was one of the earliest applicants. To be honest, we had no problems getting a whole bunch of staff to get fully naked on a rainy autumn day. It was fun and the whole factory cheered us on between takes."
What's most important to you as a leader?
"Create the right conditions for my employees and myself, for a sustainable future and for producing good products. It is a long-term commitment that requires my full attention at all times."
Do you have any role models when it comes to leaders and leadership?
"I fascinated by different qualities in leaders and leadership, rather than being drawn to specific characteristics. However, if I have to name someone who has inspired me a lot, I'd have to say my own former boss Anna Malmhake. I love people who can inspire others to think differently and who have that special ability to see when someone is stuck in a rut. Anna really has those qualities. She helps others come up with bigger ideas than they thought possible. I also like leaders who remain calm in times of turmoil and aren't so trigger-happy."
What would you say is your greatest trait or asset at work?
"The fact that I'm so solution-oriented. I think that is an asset. I can often get angry when I think that people are talking more about the problem than actually trying to solve it. It's probably due to my desire to constantly try to find ways to improve things in order to develop myself."
What would you have done if you had not worked at TAC?
"I really like figuring things out, so forensics might have been a good alternative career choice. Imagine being able to solve puzzles and connecting traces and patterns all day to create new contexts."
The last question comes from your colleague Johan Radojewski. He's curious to know how you – who are so often positioned in the middle of the storm when it comes to sustainability, health, environment and globalization – work proactively to keep your finger on the pulse in such complex issues?
"The simple answer is that I have the privilege of working very close to many experts on these questions. It helps my intel gathering to become more relevant and accurate. It's also my role to filter through the intel and identify what is important to know. So, surrounding myself with several and different types of skills is the key to success. But of course, I also read a lot on different topics and listen to others who inspire me."