Absolut Vodka
We are a pioneer of premium vodka and vodka-based drinks – and one of the largest international spirits brands in the world.

We strive to redefine the vodka market and the world we live in by inspiring people of all backgrounds to come together to mix ideas and drinks, respectfully and responsibly. And we have a true long-term commitment to sustainability – doing the right thing for consumers, society, the environment and our people.
This isn't rhetoric. We have been a friend with the LGBTQ+ community since the 1980s, a time when many global brands were reluctant to do so. Some 40 years on, we continue to champion and be a platform for social progression through creative collaborations and innovative products.
We have been a friend of the LGBTQ+ community for more than 40 years
Our commitment to sustainability has been instilled since the very beginning, with our founder LO Smith willing to produce a better vodka free from fusel fuels improving public health and caring for the well-being of his staff more than a century ago. Our commitment is unwavering. Today, our distillery is one of the most energy-efficient in the world and we aim to produce a carbon-neutral product by 2030.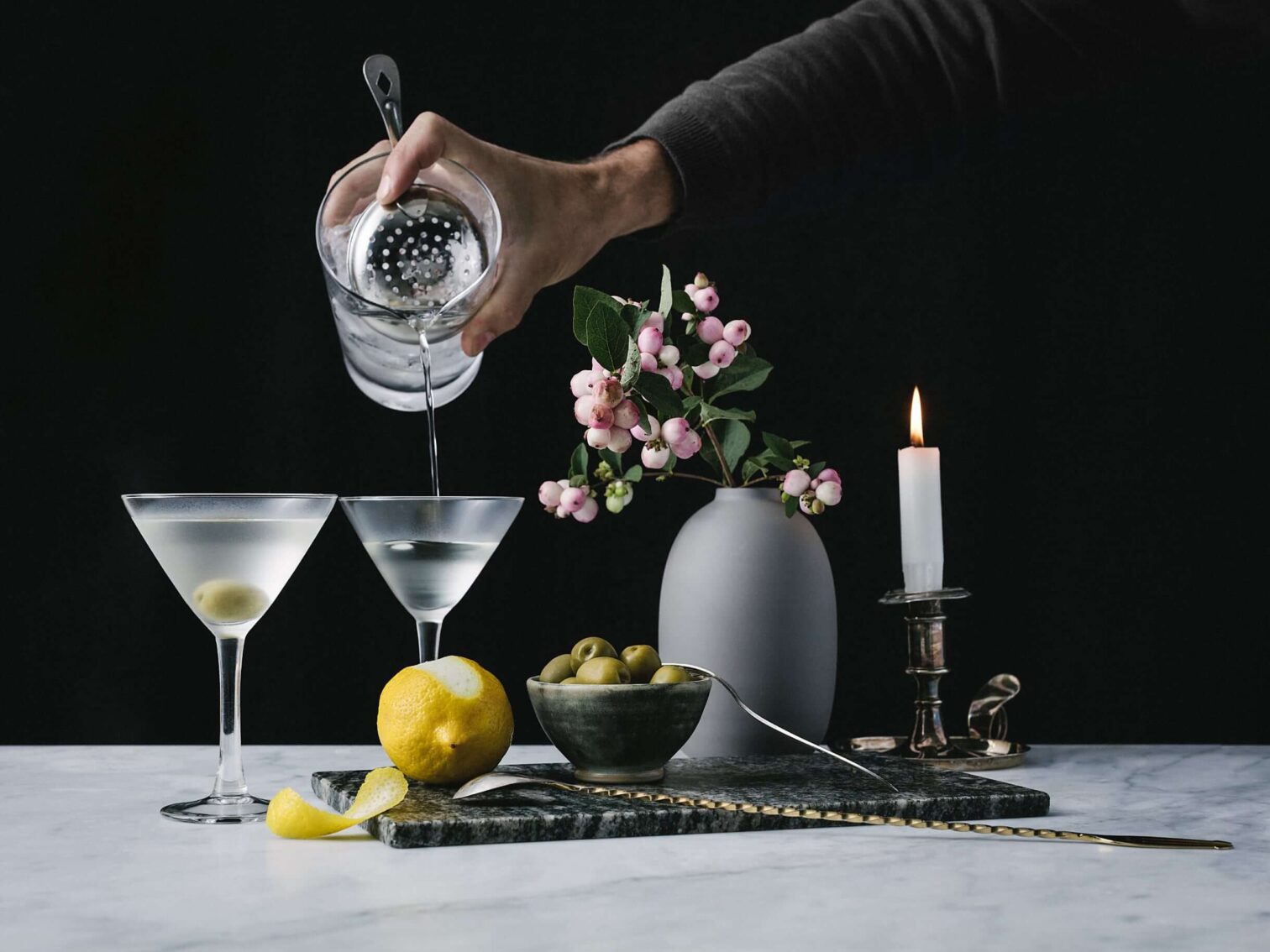 A creative spirit
We believe in mixing people, ideas and drinks as a proponent for a world that is more open, free and fun – and we embrace creativity to convey our ambitions and values. Absolut Vodka has long been synonymous with nightlife, culture and the arts – our iconic bottle has been interpreted hundreds of times by renowned international artists and fashion designers. We also express our creativity and community values through our eagerly anticipated annual limited edition designed bottles from Absolut Drop to Absolut Comeback.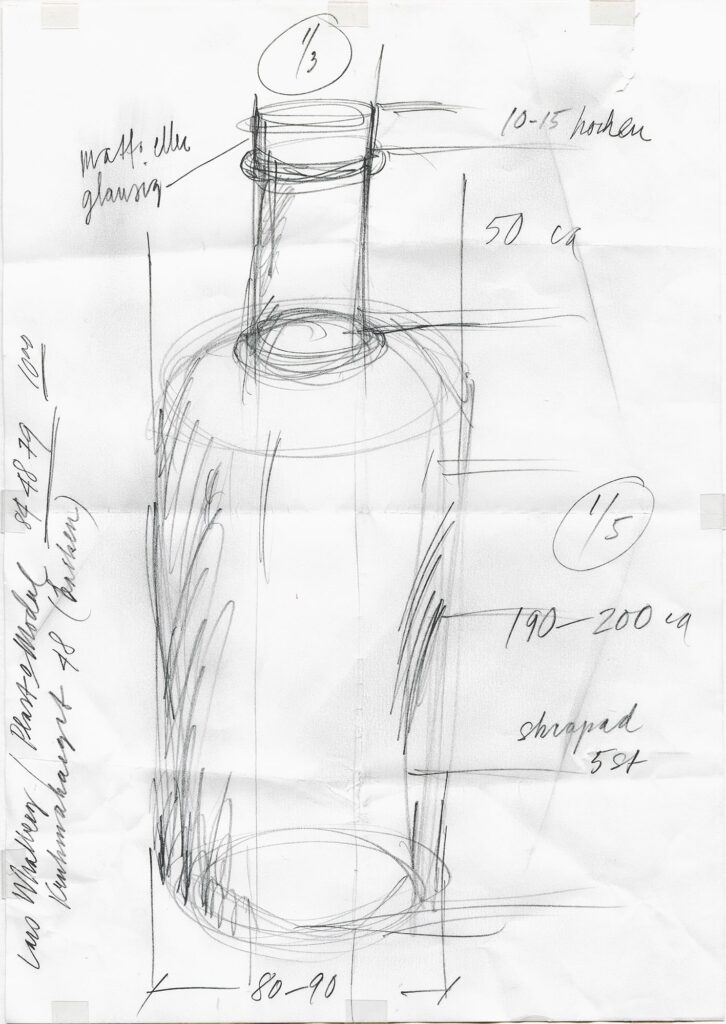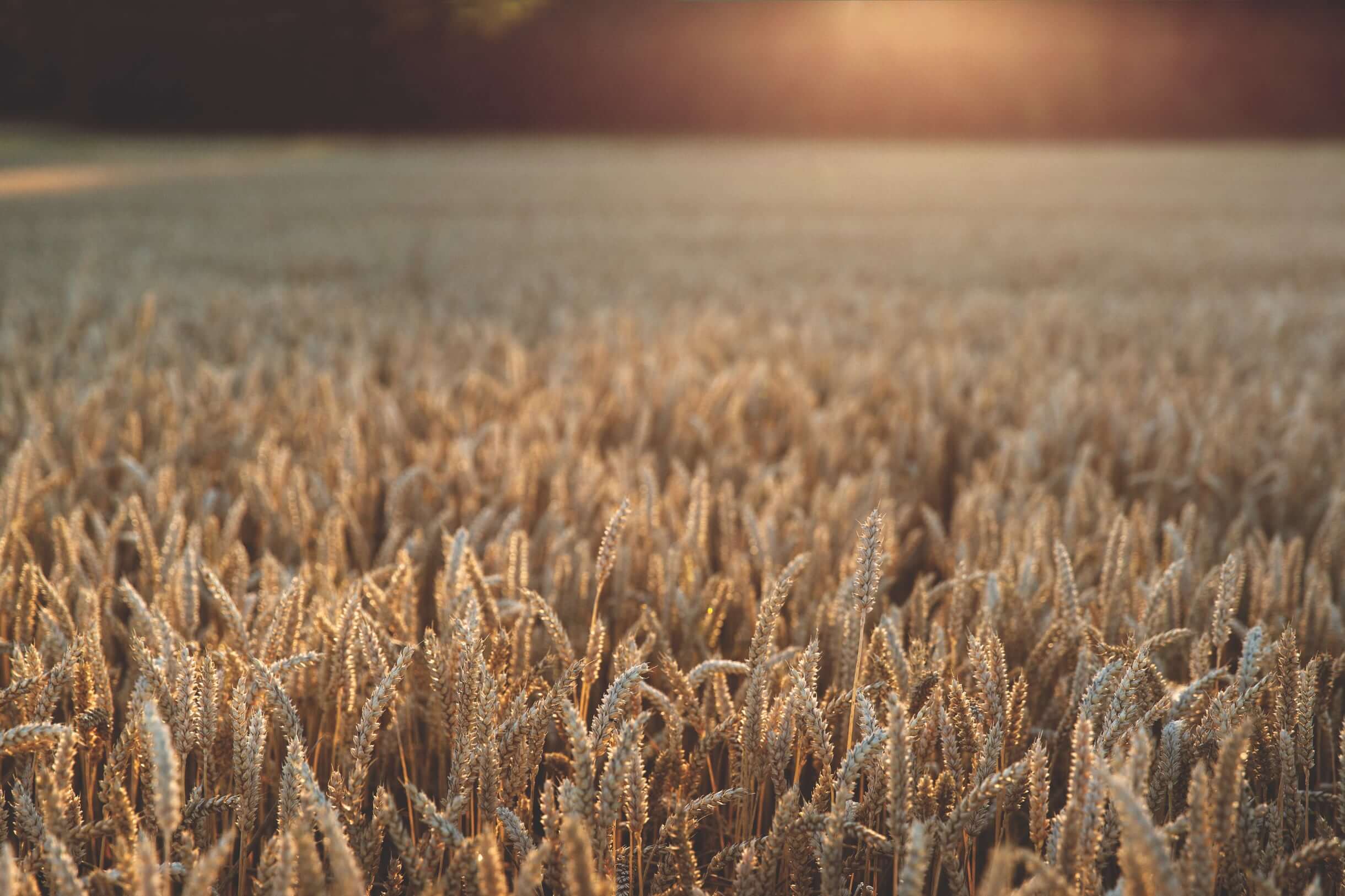 Countdown to carbon neutrality by 2030
Our ambition is for Absolut Vodka to be a carbon-neutral product by 2030 and we are on track to achieve that goal driven by an all-encompassing strategy.
Community-made vodka
Every drop of Absolut Vodka is produced in and around the small Swedish town of Åhus. We are in control of the entire process, tracing the very product that is in your hand back to our farmers. We source the water we use for our vodka from the deep wells found 140 metres under the ground that we stand on. We farm all the wheat we use for our vodka from 300 Swedish farms, many of them neighbouring. While Sweden is our home, Absolut Vodka spans more than 130 markets around the world.

25
number of years our Absolut Perfection ad campaign ran since launching in 1981 300
number of farms within a 75 km radius of Åhus provide all the wheat we use

80%
carbon emissions at our distillery and bottling sites per litre of vodka have fallen by 80% since 2004

1986
the year we became the first brand to export flavoured vodka with Absolut Peppar

12
number of flavours in our Absolut Vodka flavour range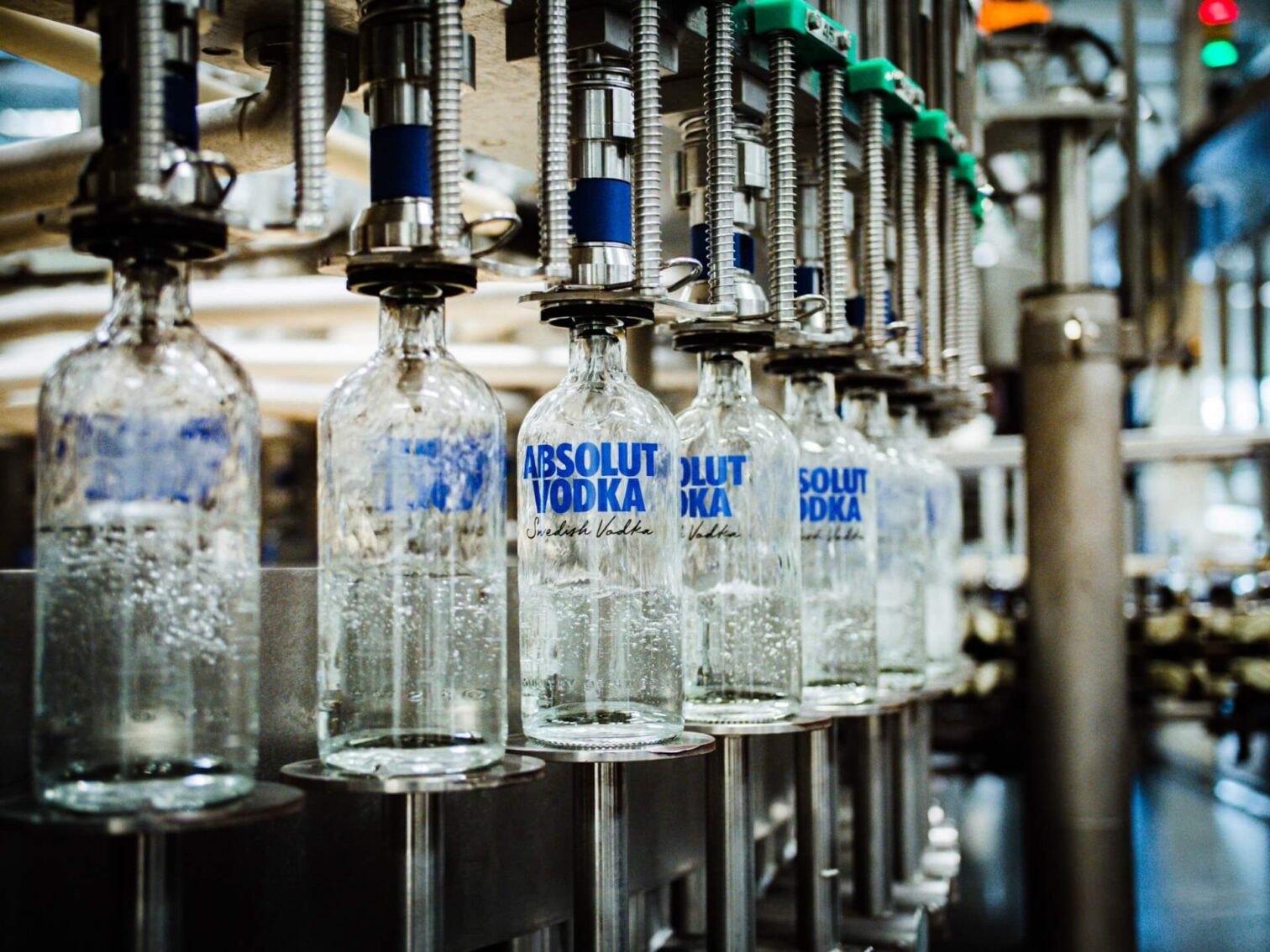 Our timeline
Absolut is a progressive and open brand. We are innovative and bold. We have been at the forefront of many pioneering initiatives, embracing creativity to convey our ambitions and values.
Timeline

1879

Absolut Pure Vodka (as it was originally called) was first made at Reymersholme in Stockholm by Lars Olsson Smith using a unique continuing distilling process that is still used to this day.

1979

Absolut Vodka starts exporting to the US in a move that would soon see us establish ourselves as a world-leading spirit brand.

1980

Absolut Perfection campaign launched. This ground-breaking advert became one of the longest-running campaign in the advertising industry. A simple pun with a play on the word 'Absolut' that could be repeated in variations using a striking image. And it was…for 1,500 ads over 25 years.

1981

Absolut's first advert in The Advocate, a leading gay magazine. Absolut was a friend of the LGBTQ community at a time when other brands feared it was brand suicide to be so. In 1981, as the AIDs pandemic broke, we ran our first ads in two magazines read by gay men, The Advocate and After Dark.

The Advocate

1986

Absolut launches the world's first flavoured vodka, Absolut Peppar. We inspired the flavoured spirits that are commonplace today being the first brand to export flavoured vodka to the US with Absolut Peppar in 1986.

1988

As a pioneer and innovator of premium vodka and quality vodka-based drinks many other flavours have followed. Absolut Citron became our second in 1988.

Absolut Citron

1989

Absolut Vodka sponsors GLAAD (Gay & Lesbian Alliance Against Defamation) for the first time. Today, GLAAD is the world's largest LGBTQ media advocacy organisation – a far cry from when we first gave it our support. In 1989, it was still a fledgling organisation, having been founded by a handful of journalists trying to bring balance to the many discriminatory stories they were unearthing covering the AIDs pandemic.

1992

Absolut Kurant

1999

Absolut Mandrin

2003

Absolut Vanilia

2004

Absolut Raspberri

2005

Absolut Second Skin

We express our creativity and community values through our eagerly anticipated annual limited edition designed bottles. This bottle, with its white plastic cover and decorated with snowflakes, was launched for the Christmas season.

Absolut Second Skin

2005

Absolut Peach

2006

Absolut Bling Bling

A celebration of fun this exclusive limited edition bottle paid homage to the 1960s – the golden era of cocktails leaving traces of inspiration for today's bars and bartenders.

Absolut Bling Bling

2007

Absolut Pears

2007

Absolut Disco

The Absolut Disco bottle was all about dancing. Made of 1,000 reflecting prisms formed in the Absolut Vodka bottle shape, the gift pack slid apart upon opening, revealing our iconic bottle.

Absolut Disco

2008

Absolut Mango

2008

Absolut Masquarade

Built of exactly 3,238 shiny red spangles in the shape of the bottle and with a zipper on the back, the Absolut Masquerade gift pack was made to inspire consumers to embrace their glamorous side.

Absolut Masquarade

2008

Pernod Ricard Group acquires Absolut Vodka brand having bought Vin & Spirit Group.

2008

Absolut Colours

Dressed in the Pride flag, the Absolut Colours bottle design was both a nod to our long-standing support for the LGBT community, which was celebrating 30 years, as well as a pledge to continue our support for equality.

Absolut Colours

2008

Absolut Machines

Pushing the boundaries, our pioneering project explored what happens when cutting-edge technology meets the creativity of art, music and design. The result was two artificially creative and highly interactive music-making machines – the Absolut Quartet, an automated multi-instrumental orchestral machine and the Absolut Choir, a multi-channel robotic choir, made up of 10 singing characters of various shapes and sizes.

2016

Absolut Lime

2017

Absolut Extrakt

A shot we put together to toast the good times was our take on a classic Swedish snaps flavour. The result was Absolut Extrakt – infused with the spiced warm flavour of green cardamom – a shot best consumed chilled.

Absolut Extrakt

2017

Absolut Mixt

Our ready-to-drink debut in the summer of 2017. Absolut Mixt flavours included Blueberry & Lime, Lingonberry & Pear, Cloudberry & Apple and Guarana & Pineapple – inspired by Swedish heritage, Nordic berries as well as exotic fruit.

2018

Absolut Grapefruit

2019

Launch of Absolut Juice

A seasonal inspiration, with no artificial flavours, five per cent real fruit juice and 99 calories per serving. Absolut Vodka with delicious fruit juice from sun-ripened strawberries perfect for a hot summer day or other fruit juices.

2020

Absolut Movement

A limited-edition bottle that aimed to inspire people with diverse views to come together and connect. Leaning on the values of inclusivity and togetherness at the forefront of our brand.

Absolut Movement

2021

Absolut Passionsfruit

2021

Absolut Voices

We believe that the world becomes a better place when we mix beyond differences. Absolut Voices encouraged people to open up and connect with its unique design – illustrations of expanding soundwaves – on a bottle containing 80 per cent recycled glass.

Absolut Voices

2021

Absolut Watermelon

2023

Absolut Wildberri

2023

Launch of Absolut NIGHTS shot range with Smoky Pina.

Absolut Smoky Piña

2023

Absolut SENSATIONS

Our first mid-level ABV alternative is part of our mission to offer more flexibility by appealing to the growing numbers of people looking to prioritise moderation when they are socialising – without compromising on taste.

Absolut Sensations

2023

Absolut Paper

A single-mould paper-based bottle made from 57% paper and an integrated lining made of recyclable plastics that can be recycled in one piece. First generation on its journey to create the world's first 100% bio-based and recyclable paper bottle.

2023

Absolut Mosaik

Limited Edition Absolut Original Vodka bottle is designed in collaboration with the icon Olly Alexander. The concept celebrates everyone being different and symbolizes that with our individuality, we're all important parts of a greater whole.

Want to know more about Absolut Vodka? Visit the Absolut.com website for more about our products, all the flavour and drink recipes for a good time.

Absolut Elyx
Absolut Elyx is an award-winning vodka with a rich and smooth vodka that embodies a sense of luxury while redefining the vodka category. Distilled using the brand's vintage copper still from 1921, every drop of Absolut Elyx is produced from seed to bottle from one single estate in Åhus, within a 15-mile radius. The skill and experience of the manual distilling process overseen by our Master Distiller produces a vodka that is unparalleled character and flavour – full-bodied with hints of macadamia nuts, white chocolate and buttery notes of freshly baked bread. Available in 70 markets across the world, we call Absolut Elyx, liquid silk, for good reason.