Absolut launches limited edition NFT collection in collaboration with renowned designer Seletti
Absolut Vodka and visionary Italian designer Seletti have teamed together for a unique NFT collection that bridges the gap between IRL and virtual worlds.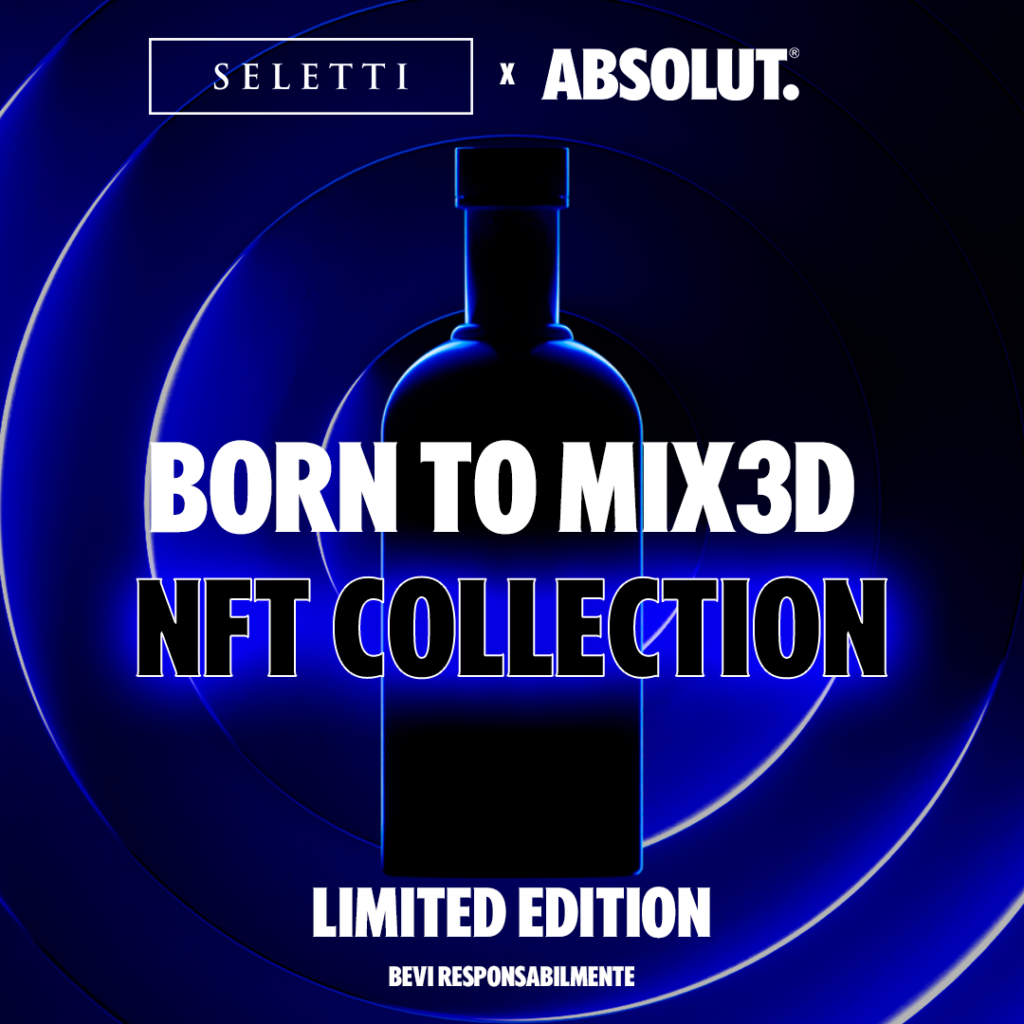 Absolut Vodka has launched its limited edition Born To Mix3D NFT Collection offering a tantalising phyigital experience for Absolut lovers, design enthusiasts and collectors of NFTs with a mystery physical design item.
Absolut's collaboration with Seletti, whose creative and quirky furniture and lighting designs have been pushing boundaries for more than a decade, is deeply rooted in the concept of mixing virtual with real life and newness with heritage. It's a meeting of minds – Absolut has been breaking boundaries and mixing pop culture for over 40 years with its progressive and inspiring collaborations across the art, music, fashion, technology and design creative fields.
From today, buyers can visit the dedicated 3.0 website Absolut NFT to purchase the Seletti x Absolut NFTs (priced at approximately €600 each) which for now all look, mysteriously, the same. Owners will then have an exciting two-week wait before each NFT digitally transforms on April 17th to reveal the exclusive design of their physical reward – signed by Seletti and inspired by Absolut's world and its iconic cocktails. The NFTs, of which there are 2,500 available, will be divided into four rarities, including an 'extra rare' edition and will all be randomly allocated.
The Born To Mix3D project embraces the values of the Absolut universe, creating a more inclusive world, where people and ideas can mix in an authentic and fun way in real life as well as in virtual life.
Charl Bassil, VP Global Marketing Absolut Vodka, said: "For the last forty years, Absolut Vodka has been creating better together through beautiful and sometimes surprising collaborations. We are proud of our heritage of partnership with creative minds from the world of art, fashion, entertainment and beyond. And so it seems fitting for Absolut and Stefano Seletti together to bring to life the NFT design collection. After all, we were Born to Mix".
About The Absolut Company

The Absolut Company has the worldwide responsibility for the production, packaging innovation and strategic marketing of Absolut Vodka, Malibu and Kahlúa.

Malibu is the number one rum-based coconut spirit in the world.

Absolut Vodka is one of the world's top ten international spirits brands. Every bottle of Absolut Vodka comes from one source, Åhus in southern Sweden.

Kahlúa coffee liqueur is the world leader in its category.

The Absolut Company portfolio also includes Åhus Akvavit. The visitor center, Absolut Home, located next to the main production site for Absolut Vodka, was opened in 2018. The head office is located in Stockholm, Sweden. Chairman and CEO is Stéphanie Durroux. The Absolut Company is a part of Pernod Ricard, the world's second largest wine and spirits producer (source: IWSR).
About Pernod Ricard

Pernod Ricard är världens näst största vin- och sprittillverkare med en omsättning på 10 701 miljoner Euro för FY22. Gruppen, som äger 17 av världens 100 ledande spritmärken har en av de mest prestigefulla och omfattande portföljer i industrin med över 240 premiummärken på mer än 160 marknader. Pernod Ricards portfölj inkluderar Absolut Vodka, Ricard pastis, Ballantine's, Chivas Regal, Royal Salute, The Glenlivet Scotch whiskies, Jameson Irish whiskey, Martell cognac, Havana Club rum, Beefeater gin, Malibu liqueur och Mumm and Perrier-Jouët champagne. Gruppens mission är att släppa loss magin kring mänskliga förbindelser genom att erbjuda "Good Times from a Good Place", i linje med företagets hållbarhets- och ansvars-roadmap. Pernod Ricards decentraliserade organisation låter företagets 19 480 anställda vara ambassadörer på marken för företagets syftesdrivna och inkluderande, vänliga kultur, som för människor samman på ett meningsfullt, hållbart och ansvarsfullt sätt för att skapa långsiktiga värden. Som del av den strategiska planen Transform & Accelerate, förlitar sig nu Pernod Ricard på sin "Conviviality Platform", en ny tillväxtmodell baserad på data och artificiell intelligens för att möta de ständigt föränderliga kraven hos konsumenterna.

Pernod Ricard är listat på Euronext (Ticker: RI; ISIN Code:FR0000120693) och är del av CAC 40 and Eurostoxx 50-indexen.