Absolut unveils limited edition bottle and first-ever onsite activation for Tomorrowland 2023
Absolut Vodka and Tomorrowland have released a limited-edition bottle inspired by the spectacle of the festival and announced an on-site experience for festival attendees.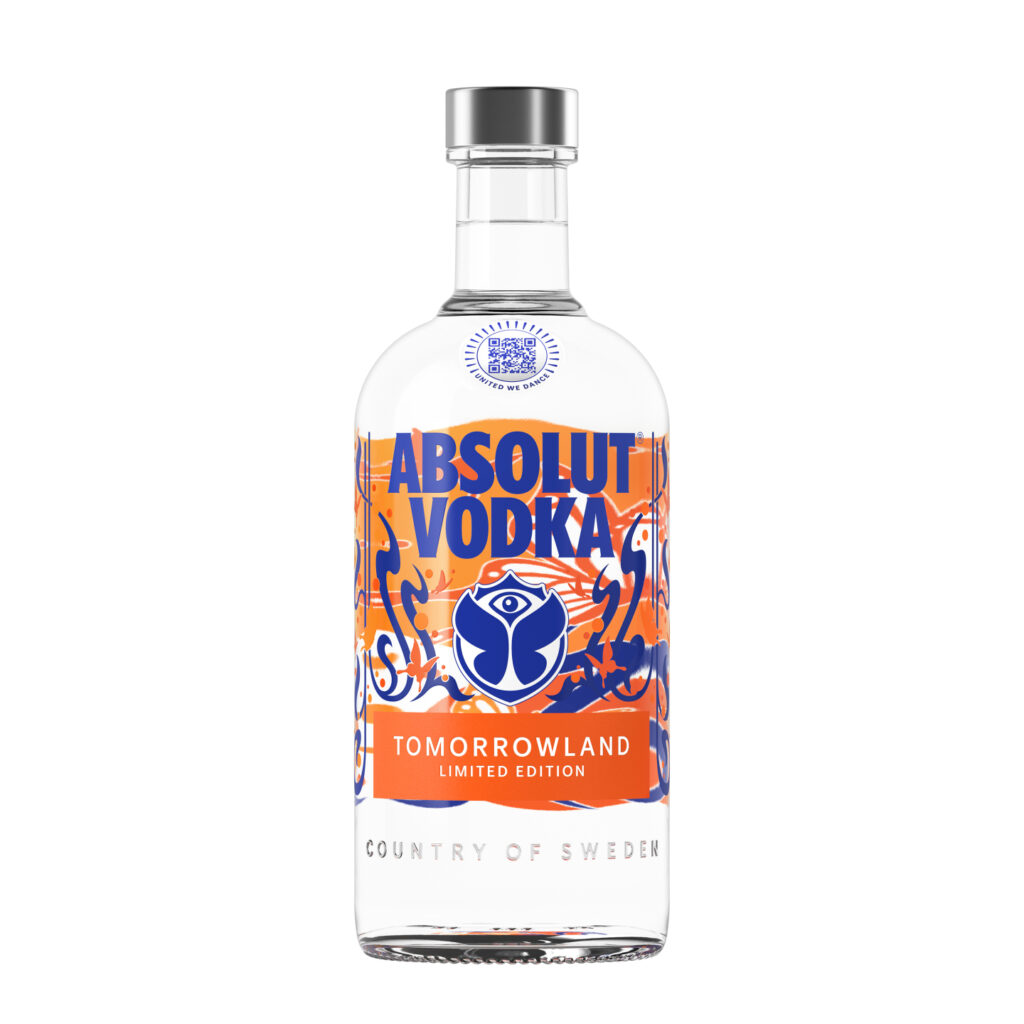 Absolut is launching its third annual limited-edition bottle and an Instagram competition to win a festival experience as part of its collaboration with the electronic music festival Tomorrowland. The brand will also be staging its first-ever activation for festival attendees to enjoy.
Tomorrowland, with a crowd of 400,000, 14 stages and 600 artists, is the largest electronic dance music festival in the world. Created as part of Tomorrowland's United We Dance campaign, the unique bottle design symbolises the festival spirit of unlimited freedom with red and orange butterflies that visualise the positive change – and the new beginnings that the festival brings.
Inspired by the pyrotechnics and spectacle that excites and elevates the Belgium-based festival, the limited edition bottle design also embodies how the open-air dancefloor can bring everyone together, release inhibitions and fuel creative expression. For the first time, the bottles feature a QR code on the medallion, for people in Belgium, the Netherlands, Luxemburg and Malta to enter the Absolut Drop It Challenge, which gives electronic music aficionados the chance to win a Tomorrowland festival package.
The Instagram Reels challenge features a bespoke audio track and video template for entrants to record their own dance content. As well as using the hashtag #UnitedWeDance, entrants will need to upload their video to the competition landing page to qualify. All Absolut Drop It Challenge videos tagged with #UnitedWeDance will be included in a digital AR mural that will live online.
To keep festival attendees dancing all weekend, Absolut's first-ever fully immersive, high-energy on-site experience. The pop-up will allow visitors to choose their own adventure, enjoying countless interactive and shareable moments as they journey through the space. Here they'll be able to enjoy a surprise element with a fun twist, that taps into the energy and excitement of Tomorrowland.
Tad Greenough, Global Creative Director, The Absolut Company, said: "Absolut Vodka and Tomorrowland share the belief that what unites us is stronger than what divides us. Our collective mission has always been to bring people together, and this partnership does so in a way that is safe, fun and inclusive for everyone. We hope our Absolut collectors love the 2023 bottle design and can't wait to see how our consumers bring their best during the Absolut Drop It Challenge!"
The limited-edition bottles are available now in Germany, Belgium, Spain, France, Poland, Netherlands, Switzerland, Estonia, Dominican Republic, Slovakia, Serbia, Montenegro, Malta, Lebanon, Israel, Cyprus, Brazil and The United Arab Emirates.
The Absolut Drop It Challenge is only open to residents of Belgium, the Netherlands, Malta and Luxemburg aged 25+. Terms & conditions apply.