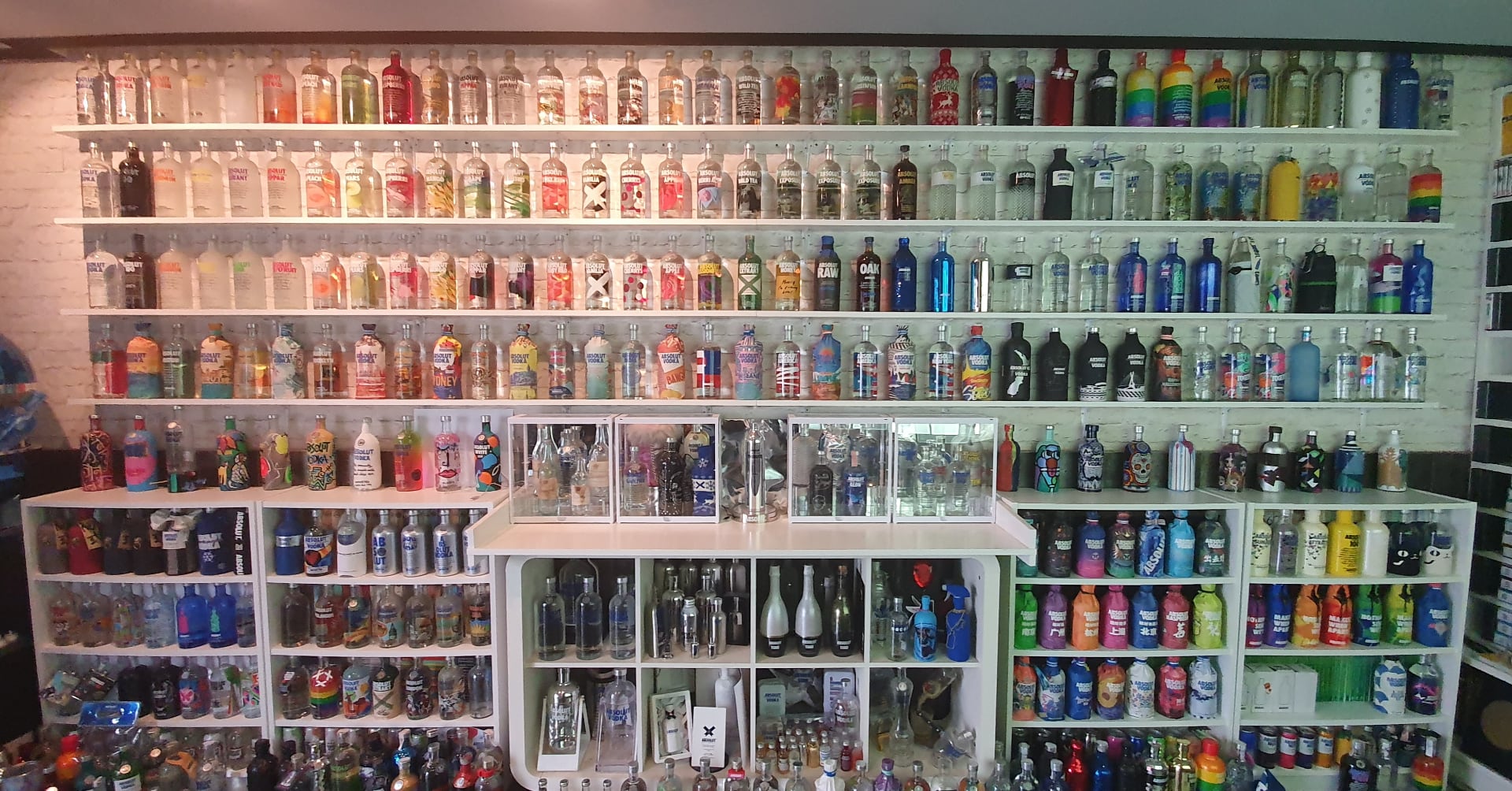 Gotta Catch 'Em All
Over the years, the Absolut bottle has become a true design icon. An icon that has been reborn over and over again through different collections and collaborations with artists, creatives and designers. In other words – a perfect item for picky collectors. Today, there are over 5000 Absolut Collectors in the world, all searching, collecting and trading bottles to obtain complete series or hunt down the most rare items out there. We had a chat with Annika Skohg, Brand Manager at the Absolut Company and responsible for supporting the Collectors community from a brand perspective.
What is Absolut Collectors?
Absolut Collectors is the collective name for the group of people that collect Absolut-bottles and something that has emerged organically entirely from the interest of consumers. From a company perspective we are really happy to see so many brand lovers all over the world and we want to support the initiative as much as we can to make sure that the collectors feel like they are a part of the Absolut-family.
How does Absolut support Absolut Collectors?
The biggest investment we do is the big collectors meetings that we've been hosting since 2010. Many of the meetings have been held in Åhus and the most recent one was in 2019, just before covid. At the last meeting there were over 350 attendants – so many that we had to divide the event into two different meetings, and that is still only a very small part of the thousands of collectors that exist. The arrangement is that Absolut hosts the events and the collectors pay for their own flights and hotels.
The meetings are an opportunity for the collectors to meet each other and to visit Åhus – the heart of the brand and the place where it all began. The meetings are also an opportunity for the collectors and the company to get together. At the last meeting, many people from the board joined in to show to the collectors how important they are to the brand.
We also support the collectors through information in different Facebook forums. There are about 20 forums in different markets where collectors communicate and trade bottles with each other – all created by private actors. To serve the collectors we proactively share facts about product launches, availability, and sizes. Most of our communication with the community takes place through these forums and it is also where we invite them to the meetings.
How many collectors do you estimate there are in the world?
There are over 5,000 collectors worldwide in over 50 different countries that we are aware of. In addition we estimate that there are many more outside the Facebook groups that we can't keep track of.
Where in the world do you find most collectors?
The collectors family is very much global but Central and South America has the highest concentration of collectors – Mexico and Brazil in particular. We also have a lot of collectors in Europe where the majority comes from Germany, Sweden, UK, Spain and Portugal. In Asia, South Korea definitely has the high seat when it comes to collectors. A common factor among the markets with the most collectors is that the collectors usually have a very good relation with the respective local market company.
Why do you think there is such a big interest in collecting Absolut-bottles?
I think one of the reasons is because the bottles have always had such beautiful, fun and creative designs – but also that the bottle became an icon in Absolut's history very early on. When it was first launched, it had a design that hadn't been seen before, something that truly stood out from the crowd and that inspired many of our campaigns, including 'Absolut Perfection', and today it's one of the most iconic bottle silhouettes in the world. So being able to buy an icon for 20-30 dollars is very attractive. Moreover, throughout the years Absolut has been surprising, extremely creative and it is clear that consumers want to be associated with things that are creative, progressive, and artistic.
Besides the love for Absolut, is there anything that the collectors have in common?
For one, there are many more men than women amongst the collectors – we're not really sure why. Besides that it's hard to see any other common factors. Agewise and geographically it's very mixed. What you can say is that everyone treats each other like family. There is a lot of trust among the collectors, something that is necessary when they exchange bottles with each other.
What is the strangest request that you've received from a collector?
We get all kinds of requests but we recently received an interesting email proposing we should name a street in Åhus 'Absolut collectors street'. That was a first.
Which bottle is the most desirable among collectors?
It's very individual, everyone has their collection that they want to complete. But like all collectors, they desire the most unique items. Many of the collectors focus on collecting complete series – for example City Bottles (artists in different cities have made versions of the bottle to pay tribute to their respective hometowns*) or the different sizes of Absolut Original through the ages. Another example is 'Absolut Unique' – a series of numbered bottles that are completely unique or Absolut 40 – our anniversary bottle from when Absolut turned 40.
* editors note
What are your future plans for Absolut Collectors?
As for today, we do not have our own forum to reach out to the collectors but in the near future, we plan to set up our own Facebook group through Absolut's global page to make it easier for us to reach out to collectors on a global level.
We asked three devoted collectors about the crown jewel/-s in their respective collections:
Iñaki Zabala, 46, Bilbao, Spain, an Absolut Collector for 15 years.
A few years ago when Michel Roux passed, he appeared on The New York Times frontpage with a set of 3 bottles of the statehood collection (Absolut Texas, Absolut Washington, Absolut New York). I now have those 3 bottles at home and to me they are as important as Michel Roux was to Absolut.

Iñaki Zabala
Michelle, 48, Matawan, New Jersey, US, has a collection with over 800 bottles.
To pick a favorite bottle would be like picking a favorite child! But the bottles that mean the most to me are the ones from the collectors meetings that are signed by all my Absolut friends from around the world.

Michelle
Marco Moliterni, 38, Milan, Italy, has a collection with over 300 bottles.
I started collecting Absolut seven years ago. It all started with a Unique given to me by a friend for my birthday. As for today, my collection includes some very rare pieces such as Absolut Glow (thailand, 2012), Absolut Philipp Plein (Austria, 2010), Absolut Freestyle (France, 2004), Absolut Bodyart (Italy, 2005) and Absolut Gareth Pugh (2011, fashion week).

Marco Moliterni